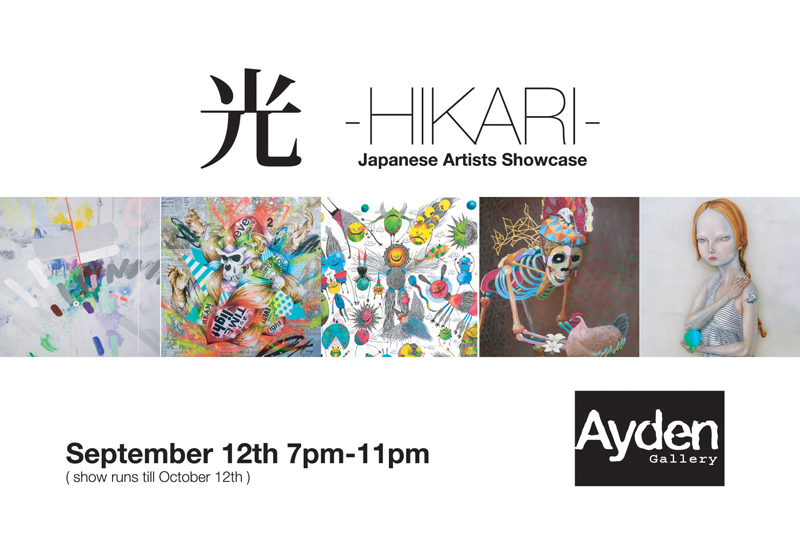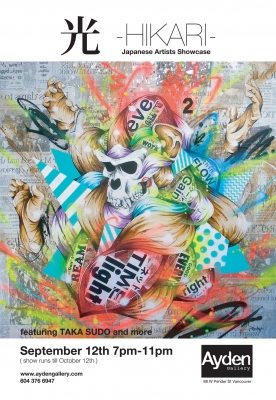 HIKARI -Japanese Artists Showcase-
Date: September 12th – October 12th (Opening Reception: September 12th 7pm)
Place: Ayden Gallery (Vancouver Canada)
Artists: Ryuichi Ogino, yoshi47, Taka Sudo, Seitaku TAK Aoyama, Teiji Hayama,
I'm so pleased to announce this coming show at Ayden Gallery in Vancouver. I've been working on this show for last 6 months creating new pieces and co-curating with Ayden Gallery.
So excited to show amazing artworks by some of super talentd Japanese born artists. It'll be a killer show.
Opening party is on Friday September 12th (7pm-11pm). Hope to see you and have some drinks then!
バンクーバーのAyden Galleryにて日本人アーティストのグループショーを開催します。今回はAyden Galleryと共同で自分もキュレーションを手伝ってます。
素晴らしい仲間達の作品をバンクーバーで紹介するのを今からワクワクしてます!
オープニングパーティーは9月12日金曜日19時から。